My nephew (who's about age 19 or 20) decided that neither higher education or the 9-5 workweek was for him, so he's hit the road with his thumb up and is hitchhiking around the country. Unlike back in the hitchhiking heydays,  technology now allows him to post updates on his blog and it looks like he's carrying a handy dandy GPS that updates his location on a map there as well.  Be sure to check out his progress, and maybe even wish him some good luck here: http://wanderlust04.blogspot.com/
Since I'm on the subject, I figured I'd point out a couple useless nonsense items about hitchhiking– you know, responsible advice that my nephew can use:
1) NOT ALL HITCHHIKERS ARE HIPPIES: Don't give up on yourself.  Original beatnik Jack Kerouac was one of the most well known hitchhikers ever and also one of the most influential novelist, poet, artist bad asses in his time.  Jack acknowledged that he got a major part of his influence from being out there on the road.
One of the best things i like about Kerouac is that he clearly saw the difference between what he was (he didn't like being called a beatnik, but I'll use it) and the subsequent sorry ass hippies that he later influenced.  Unlike another early beatnik, Allen Ginsberg– who lost his cool and transformed into the biggest hippie of the day, Kerouac recognized that while being a beatnik was all about the art, the hippie (many of whom give Kerouac credit for influencing them) was more into whining about politics and hiding from a war out of fear.  Unlike the cowardly hippie, Kerouac actually signed up for military service during his day back in WWII (unfortunately he was discharged soon thereafter for "indifferent disposition"– it's believed he was a bisexual….. but *not* a bisexual hippie!)
The King of Hitchhiking, Devon Smith, was also not a hippie– and he holds the Guinness World Record, having hitchhiked over 200,000 miles over 12 years.
Hippies don't wear bermuda shorts. Hunter S. Thompson claimed to have the world record for hiking in bermuda shorts. Thus, he may have liked drugs, but we can't consider Hunter a hippie either.
See– you don't have to be a hippie.
2)  GAS, GRASS OR ASS…. NO ONE RIDES FREE!!: This is the *more important rule* you need to know out there, and I think it actuallywas  the 11th Commandment  tablet that Moses accidentally dropped back in the day….
So, when you're hitchhiking, the dude who picks you up will surely see you're not carrying a gas can, and will likely assume you don't have money to give him for gas.  That means you'll instantly get a big Strike One against the rule.
Now, parents may not agree with my wisdom, but I would seriously recommend the nephew carry some grass with him.  Remember,  you've got no damn gas and you probably won't want to get dealt that strike number two, right? Perhaps that's what happened to Jack Kerouac– he was dealt a stiff strike to number two because he didn't have any gas and he had already smoked up all his grass. Strike 3, Ass is next. History suggests Jack may have ended up liking that strike on number two, but not everyone might. Remember, the word 'thumbing' is only a wave of the hand away from the word 'fisting.'
3) BREAK THE RULES: If all else fails and you're ass is on the line, you can always break the rules.  Aileen Wuornos was another world famous hitchhiker who did just that.  Guys picked her up, went right for the ass– and she took their own asses out, and racked up at least 6 murders in one year.  A true hitchhiker to the end, when Aileen was being wired up to Ol' Sparky, she claimed she was going to "hitch a ride on the mothership" to return back to earth after she died (that is if she finally accepts the Gas, Grass or Ass rule.) In the meantime, a movie was made about her.

4) HITCHHIKING IS FOR GIRLS:  Back in the day, it had to be RIGHTEOUS to be out there hitchhiking with the ladies., and they surely covered a lot of option #3 to keep things moving…
Yeah… I know…. you probably don't think the hair-do's the greatest and she's probably over 50 years old nowadays.  However, she was probably a hell of a ride back in her day though!  I have hope– they may still be out there for you, young grasshopper…..
Good luck with that, lol.
5) JEWS MAY HAVE A REP FOR BEING CHEAP, BUT THEY SURELY DON'T GET FREE RIDES:  Earlier I mentioned Allen Ginsberg, whose last name reminded me of the Jewish folks… Along those lines, did you know that in Israel the Jews use the thumbs down as their signal for hitchhiking, instead of the proper thumbs up? We now know why there is no peace in the middle east. To fix this problem– the Israeli Jews really need to watch Happy Days, as it clearly shows that the Jewish folks in the US, like the Fonz, figured this problem out already. AAAAEEEEEYYYYY!!! for world peace.
I hope my advice and information is useful for my nephew. I used to hang out quite a bit at my sister-in-law's house with all 3 nephews when i was younger and first met my wife.  Our hitchhiking adventurer was always the quieter, mellower, more artistic kid versus his older brother who was more the aggressive, loud mouth, jock type.  I haven't seen him in a while, but it seems like he's grown into his personality.  Take care out there on the road and have a good time.
http://wanderlust04.blogspot.com/
As i write this, he's made it over 1300 miles into Colorado: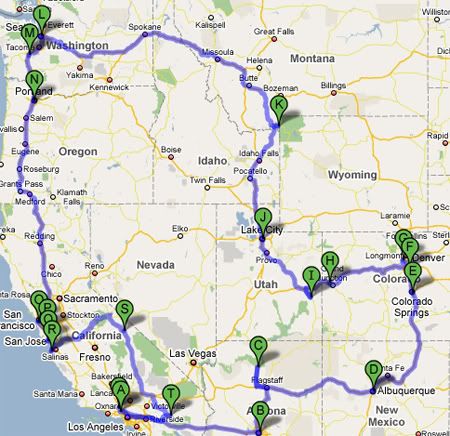 -scott noteboom
2 comments July 20th, 2008